INNOVATIVE TECHNOLOGY COSMETICS
Get an ultra soft kisser with IT Cosmetics Vitality Lip Flush Butter Gloss. This super smooth gloss utilizes the latest lip enhancing technology. It's silky texture and ultra hydrating formula is infused with oils and butters to leave your lips perfectly kissable. It lacks the stickiness or thickness of a traditional lip gloss and treats, hydrates, conditions, and nourishes your lips while you wear it. BONUS, it diminishes the appearances of fine lines and wrinkles.
The Vitality Lip Flush Butter Gloss is available in 7 beautiful shades and the one I have to review is in Naturally Pretty.
As a lip gloss junkie, I know a good gloss when I see one. This one is AMAZING! Following suit with the IT family, this gloss is packed full of anti-aging anti-oxidants like Vitamins A,C,E, Acai, Green Tea, and White Tea. These ingredients work to ward off free-radicals.
Vitality Lip Butter Gloss retails for $24.00 and is available at
QVC.com
and
itcosmetics.com
.
I'm all about getting a better deal. You can get a set of 3 glosses from
QVC.com
for $29.
It Cosmetics Hydrating Lip Butter Gloss Collection
offers a nude set, a pink set, and a berry set. You'll get 2 colored glosses and a clear gloss. Naturally Pretty comes in the nude set available here: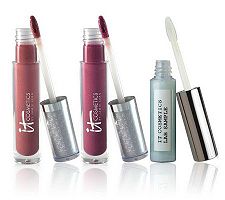 My Thoughts:
This gloss is smooth and ultra hydrating! I love the beautiful natural color of Naturally Pretty. I find myself grabbing for this gloss more than others. If you avoid gloss because it's sticky or tacky, this is the perfect gloss for you. I would recommend this to anyone looking for a beautiful lip gloss with the added benefits of skincare.
IT Cosmetics Vitality Lip Flush Butter Gloss has officially moved to the TOP of my gloss list! I can't wait to pick up more of these beautiful shades!
Have you tried any of these glosses?
Kristen
xx